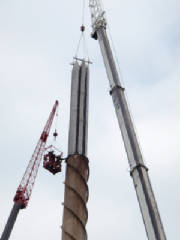 Kiln exhaust stack silencer (being inserted)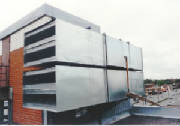 Condenser-fan silencers
A large variety of Silentec silencers and stacks are in service in many countries. They exhaust quieter gases from ID Fans, air pollution control systems, gas turbines and coal power generation plants, steam vents, compressors and others.
Silencers are custom designed to comply with maintenance needs, corrosion protection, high velocity etc. For special applications we provide unique solutions such as:
Membrane silencer, ideal against dust, humidity, fibres, chemicals and other contaminants that cause performance and maintenance problems in standard silencers.
Noise monitor, built into the silencer, to alert and help plan maintenance and environmental management;
Pressure gain silencer-stack, to save energy or free-up pressure drop in existing exhausts for better use;
Silencer with high aero-acoustic performance;
Sealed silencer for food, pharmaceutical applications and against in dusty environments..